Previous Announcements
2017-04-27
The AP Exams are here!
After a lot of blood, sweat, and occasional tears, it's just about time: two weeks of AP Exam fun begin next week.
For whatever faults they might have, I actually like the exams. It's a great opportunity to show off what you've learned, and a chance to test yourself against a reasonable set of challenges. Whether you've had a year that has gone extraordinarily well or you've experienced what you felt were more than your share of struggles, you've all worked hard this year to master this material, and your results on the exam will reflect that.
I'll do my best to keep you focused over these next few days as we do some last-minute preparation and review, and we'll see what happens!
Good luck!
2017-04-03
The Good News, the good news... and more good news!
That's right. No bad news! :)
First off, welcome back from Spring Break. I hope you had a chance to recharge your batteries a bit... Hah! E&M joke there. :-/
Good news #1: As a group, you guys nailed the test on DC Circuits. Class average of 86%, multiple perfect scores on the test, and that's not even counting the extra credit points. Well done.
Good news #2: If your grade is still a bit lower than you'd like, there are still lots of opportunities to bring things back to where they should be. GOOD opportunities, too. Keep an eye out for those.
And good news #3: these last few weeks of the course are really among the most interesting of the entire year. I hope you'll find them as fascinating and entertaining as I do.
Oh, geez! I didn't even think about good news #4: We're going to Magic Mountain!!!
Good news overload! I'll see you in class...
2017-03-12
The End of the Quarter is Nigh...
Congratulations on finishing your Extra Credit. I thank you, and your high school transcript thanks you.
We've done a pretty good job of working our way through Capacitors, Ohm's Law, and DC Circuits, and you'll get a chance to demonstrate what you know on the unit test on Thursday. I'll be at Chipotle on Tuesday 5:30-7:30 if you'd like to stop on by and have a burrito.
And then we'll be moving into the final units of this course, on Magnetism, Magnetic Fields, and Electromagnetic Induction. It is so cool, and I think you're going to love it.
I'll see you in class...
2017-02-27
Caps, Resistors, and Circuits
The next few weeks of this course are a good time of year for most people. There's just something about putting together batteries, wires, lights, resistors, and capacitors that's fun.
Make sure you're keeping up on the homework! Oh, and don't forget the Extra Credit assignment!
I'll see you in class...
2017-02-12
Digging Deep: Electric Fields and Potentials
We've had a solid couple of weeks into the second semester, and I hope you're starting to feel a little more comfortable with the idea of electric fields.
I'm going to be missing a couple of days of class to visit some schools on behalf of Poly, as you know—apparently my job consists of more than just having fun hanging out with you all! I'll see you when I get back and we'll see how things are going for you.
Anybody up for a Chipotle Review Session Wednesday night, 5-7pm? I'll be there...
See you in class.
2017-01-23
Welcome to Second Semester!
We've done a pretty good job in our overview of Classical Mechanics during the first semester of this course. The second semester is going to be just as interesting.
There's a bit less material that we need to cover during these next thirteen weeks, but it's more abstract, and that can be a challenge. Just when you were hoping to catch a bit of a break, it will be more important than ever that you stay on top of your assignments, ask questions in class, and see me for help at the first sign of trouble.
Oh, and I hope you like getting shocked. Because... you know: electricity. Magnetism. :)
See you in class.
2017-01-02
Happy New Year!
So good to take a couple of weeks off, eh? It's time to pick things up again, however.
Have you missed physics? Physics has missed you...
See you in class.
2016-12-11
Winter is coming!
(Shout out to fellow Game of Thrones fans.)
We've got a week before the holidays are upon us, and we're going to be continuing the work we've been doing all semester long. Your skills in forces, energy, momentum, and rotational motion will all serve you well as we consider the last two topics in our Mechanics semester: Universal Gravitation and Simple Harmonic Motion.
Hang in there! I know we're all going to benefit from a bit of a break for the holiday...
See you in class.
2016-11-26
Happy Thanksgiving!
This weekend is always a good reminder for me to be grateful for the good things in my life... including my students. I hope you are enjoying a little time off from the hard work that you do.
As we make our way into the holiday season, things can sometimes get a little frantic (and I know very well that this class is occasionally responsible for that). During those times, it may be helpful to take a step back, take a deep breath, and take a few moments to re-focus, and regain your balance.
Physics will still be there, waiting for you when you get back. :)
See you in class.
2016-11-08
Welcome to Second Quarter!
The beginning of this quarter is a bit of an inflection point for this class. Up to this point we've been covering material that you have (mostly) been exposed to in your Conceptual Physics class.
Now things are going to get interesting!
After a brief look at momentum, we're going to begin looking at angular (rotational) motion, a topic that is perfectly manageable (despite what you might initially think). Angular displacement, angular velocity, angular acceleration, rotational kinetic energy, angular momentum... These are all types of motion that we've discussed in linear terms, and now we're going to add a rotational aspect to all of them.
Hang on for the ride—it's going to be awesome!
See you in class,
2016-10-31
Happy Hallowe'en!
Congratulations on completing your Extra Credit assignment this week, and not a moment too soon. As I write this, many of you have college apps due, which reminds me... I've got some letters of recommendation to write...
We've got a test coming up this week—more of a trick than a treat, I know—but I'm sure you'll gbe just fine.
How's this for a treat, however? Let's hold off on the Conservation of Energy, write-up. You've got Hallowe'en on Monday night, and Tuesday we'll be trying to get ready for the test. We'll have you turn that a little later in the week, eh?
You're welcome!
See you in class,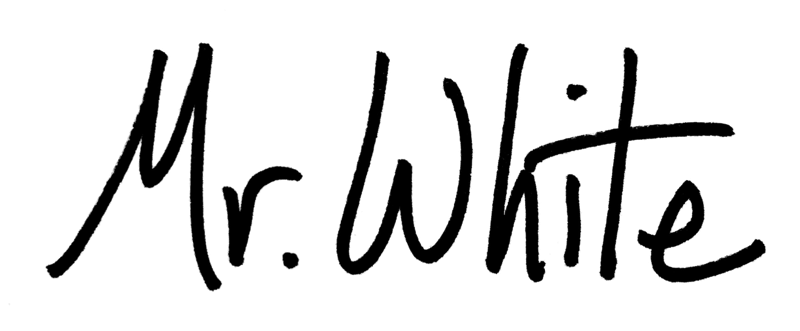 2016-10-17
Fnet=ma
It's the single most important equation during this first semester of AP Physics, and you guys have been killing the free-body diagrams. I'm working my way through your tests, and liking a lot of what I see. You'll have them back soon so you can see how things are coming along.
Closely following Newton's Laws in our study of mechanics is the topics of Work and Energy, and that's what we're doing next. You've seen some of these topics before, but not like we see them in AP Physics. It's amazing how useful a little thing like calculus can be in helping you to better understand the world around us!
See you in class.
P.S. The Fall Semester Extra Credit assignment is available now!
2016-10-03
Welcome back from Trips!
When last I saw you, we were just starting to dig into the fun stuff with Newton's Laws.
Fnet=ma, amIright?
Inclined planes are a classic, of course, and we'll be playing with those in a lab this week. We'll also be re-introducing you to friction forces, a surprisingly powerful and interesting topic.
You're going to love it!
See you in class,
2016-09-12
Back to School
Things are starting to get serious: we have our first full week of school this week, and I have Back-to-School Night on Thursday, when I get to meet your parents. Fun!
No, seriously. I like that night!
Physics-wise, we'll be concluding our study of kinematics this week, and making sure you have a solid foundation in the topic before moving on to our most important unit of the year: Newton's Laws.
You're going to love it!
I'll see you in class,
2016-09-04
Happy Labor Day Weekend!
I used to think that starting school with a 3-day week, and then a 3-day weekend, was a silly way to start the school year.
Now, it seems like the most civilized thing in the world. I hope you enjoy your day of Monday, and we'll start to get a little more serious about things on Tuesday.
See you then,
2016-08-01
The Summer Assignment is Available!
You should have received an email from me with a bit of information regarding your Summer Assignment. Sometime between now and our first day of class, you should make sure that you've completed all of the items for that assignment.
I'll check in with you again once more before classes start to make sure things are proceeding as they should. Otherwise, I'll look forward to seeing you on our first day of class.
2016-07-17
Happy Summer!
I hope you are getting a chance to enjoy your summer.
I know I am!
You can look forward to getting an email from me at the beginning of August with information about your Summer Assignment. And in the meantime, if you're getting a bit curious, you can wander around this website a little.
See you in six weeks or so!