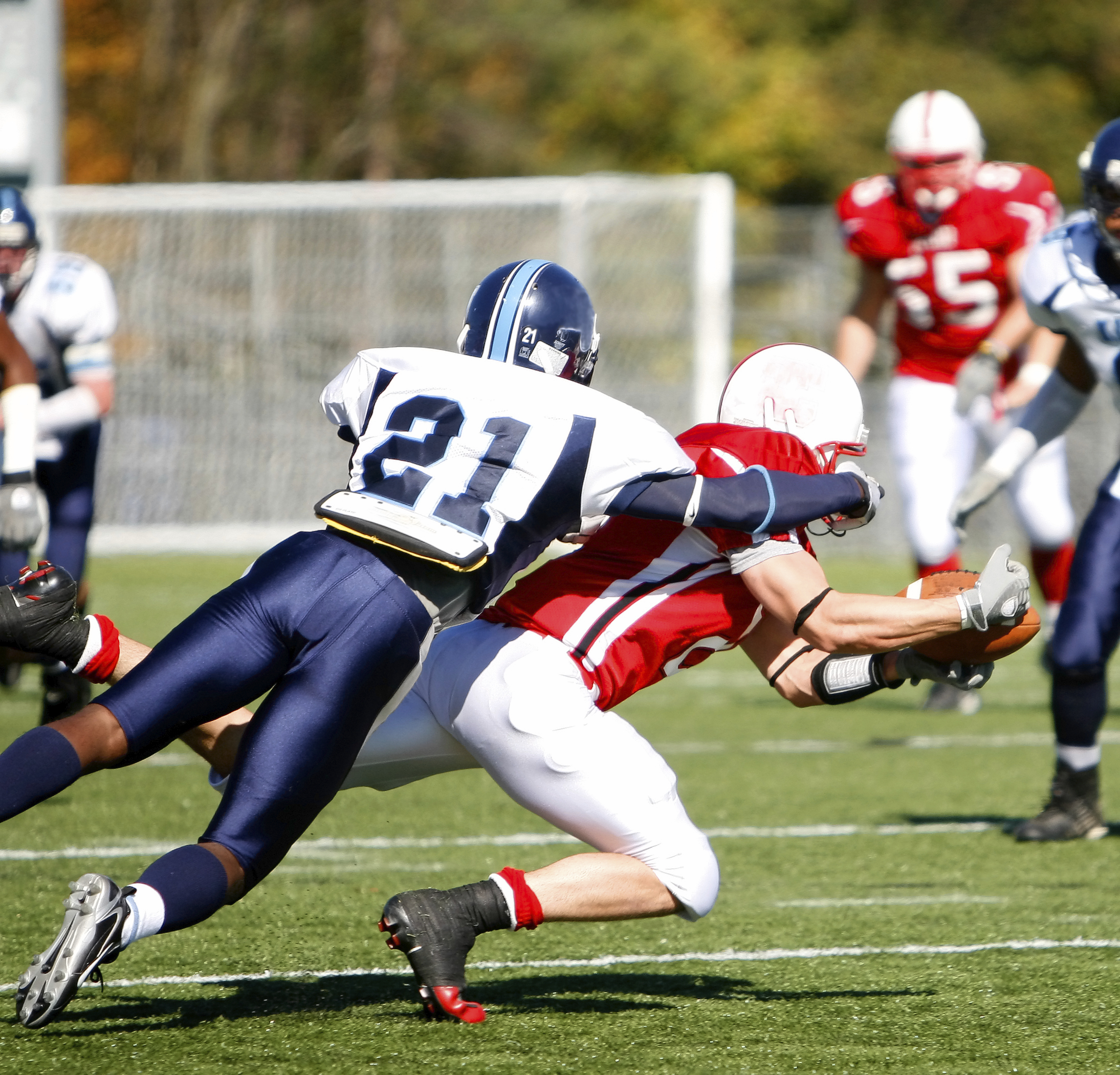 Chapter 9: Conservation of Momentum
9.0. Overview
There are three big conservation laws in the field of Mechanics, and we've just finished studying the first one: Conservation of Energy. The second important law, Conservation of (linear) Momentum, is another important tool that we can use to solve problems, especially when we see two bodies interacting with other via a Force.
Let's get started!
9.1. Linear Momentum
When Newton wrote his Second Law of Motion, he didn't say "A net force causes a mass to accelerate." What he really said (in Latin), was, "Forces applied over a period of time change an object's quantity of motion."
And what does "quantity of motion" mean? There are lots of quantities associated with motion: distance, speed, acceleration, direction of motion... When Newton said "quantify of motion" he was referring to a quantity that we now call linear momentum.
Newton's statement regarding quantity of motion and the Second Law of Motion that we've used in this class are mathematically equivalent.
So, a net force on a mass causes a change in its momentum p, its mv, where momentum and velocity have been written in bold to remind us that they are vector quantities.
9.2. Impulse
We can talk about this force-momentum-time relationship another way.
Rearranging the relationship above:
Here, the value J represents the impulse applied to the mass, the Force applied through a given amount of time, resulting in a change in the momentum of the object. Note that some authors use I to indicate impulse rather than J.
With this relationship we can talk about the impulse applied to an object, and how its momentum changes as a result.
9.3. Conservation of Linear Momentum
Two particles that are interacting with each other via some force apply equal and opposite forces to each other (Newton's 3rd Law), for some amount of time t. Because the forces are equal in magnitude and the time of the interaction is the same for both objects, the impulse the objects apply to each other is also equal in magnitude, but opposite in direction.
Take, for example, these two billiard balls that collide in space.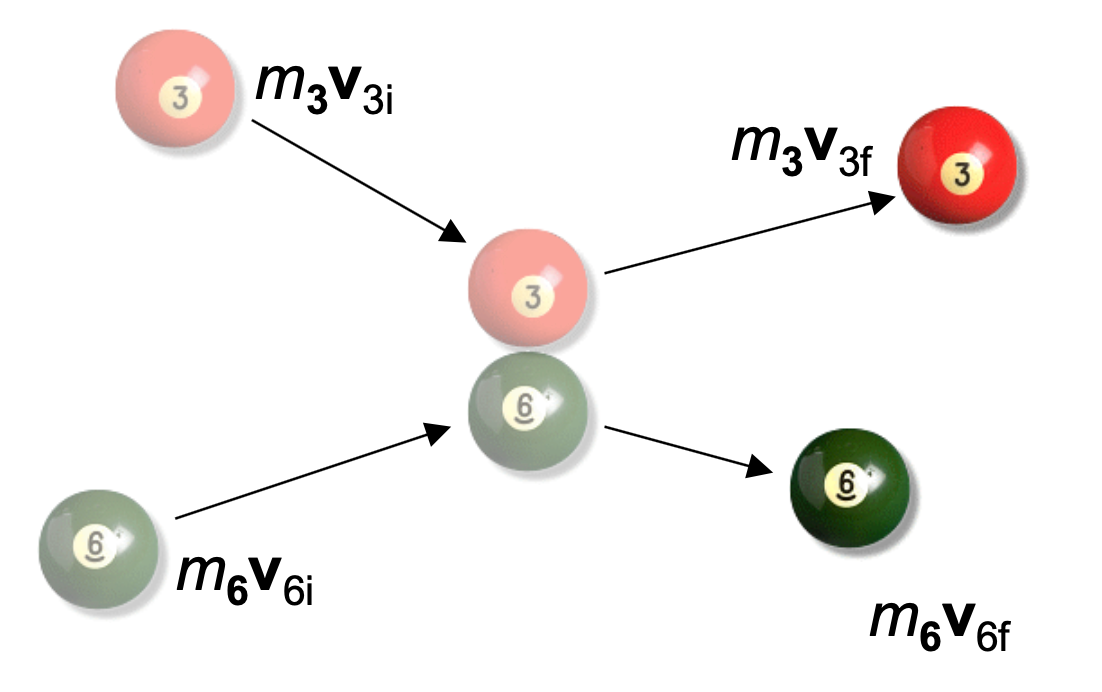 Let's consider the force on the 3 ball from the 6 ball, F3,6, and the force pair, the force on the 6 ball from the 3, F6,3.
In this derivation you can see that we sometimes use "prime" to indicate final values. This is not meant to indicate a derivative.
9.4. Collisions
We've been discussing how conservation of linear momentum is related to particles that are interacting with each other via a force. One common type of interaction is a collision between two objects, and we can split our analysis up according to the type of collision:
Elastic collisions
Inelastic collisions
Perfectly inelastic collisions
The three types of collisions are similar in some ways, but there are some important differences as well, which will affect how you analyze the situation.
9.4.1. Elastic collisions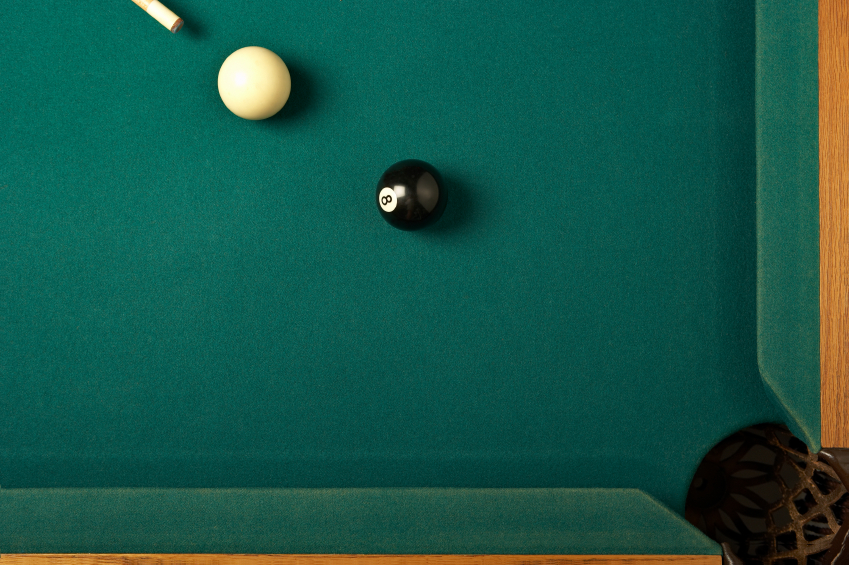 We know that momentum is conserved in collisions, and speaking generally, energy is conserved as well, although in the vast majority of collisions, some energy is converted ("lost") to thermal energy: the bodies colliding become permanently deformed or bent, and the sound of a crash or a crunch can clearly be heard.
But some collisions lose so little energy that kinetic energy is effectively conserved: the total K of all the bodies before the collision is the same as their total K after the collision. In these cases, we say that the collision is elastic.
9.4.2. Inelastic collisions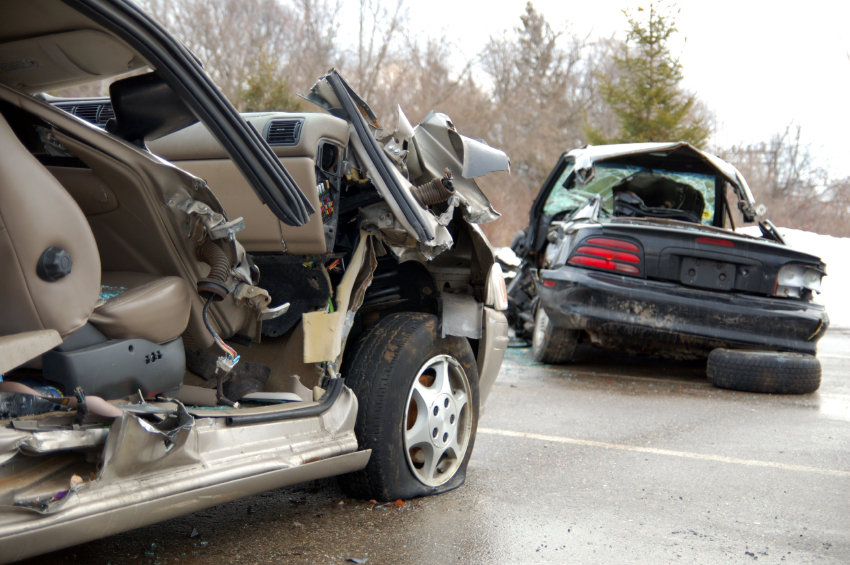 In this type of collision we have significant amounts of kinetic energy that are are converted to heat in the process of the collision. As a result, kinetic energy is no longer conserved, although momentum still is.
Inelastic collisions are very common. Because the forces involved in collisions are so great compared to the other forces that might be present in a situation—a normal force, a force of gravity, etc.—we typically ignore those other forces and focus on the single force of collision to find out the velocities of the colliding objects just before and just after the collision.
In the photo here, the two cars have collided, and clearly show some damage, some deformation as a result. It takes work to deform a mass, resulting in ΔEinternal. But we can still use conservation of momentum to determine their velocities immediately after collision. (Once the collision is over, friction forces will bring the moving cars to a halt, of course, but for that part of the problem we'd do a different analysis.)
9.4.3. Perfectly inelastic collisions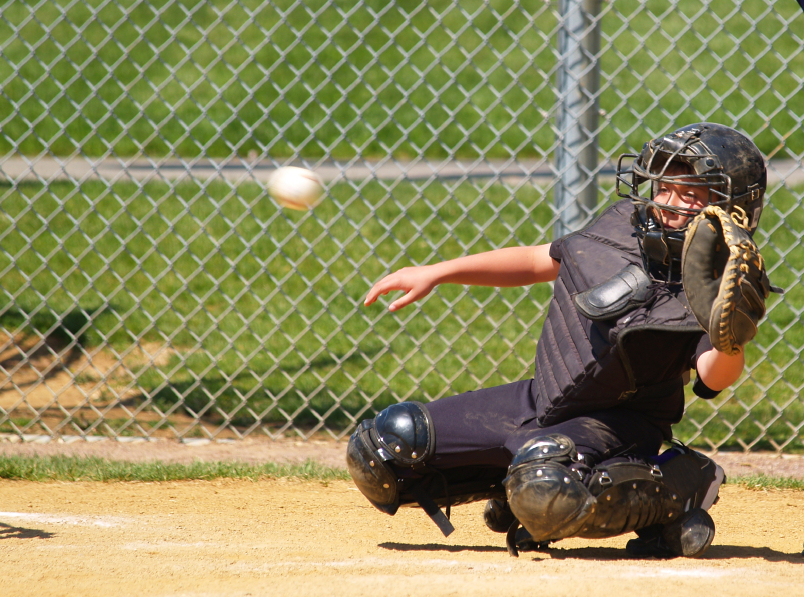 Here, too, we see kinetic energy converted to heat, making this a type of inelastic collision. Because the colliding bodies stick together, however, the conservation of momentum analysis is slightly simplified.
One common example of a perfectly inelastic collision is that of a baseball player catching a moving ball in their mitt. Just before the ball is caught, the ball and the mitt have different velocities. After the ball is caught, it and the mitt are together moving with a different velocity: in some cases they might both be moving backwards at a smaller velocity, in other situations they might be moving forward, or even come to a complete halt. It depends on the circumstances.
9.4.4. Example Problems
9.4.5. Two-Dimensional Collisions
Because momentum is a vector, we need to take into account the direction of momentum, which we have been able to do up until know by considering positive and negative directions along a single axis.
If a problem occurs in 2- or 3-dimensional space, it requires considering linear momentum along those other axes as well.
Two-dimensional elastic collisions have three equations that can be used to solve the problem:
With three equations to use, that's three unknowns that a hard problem might have you solve for, and solving those simultaneous equations is no fun.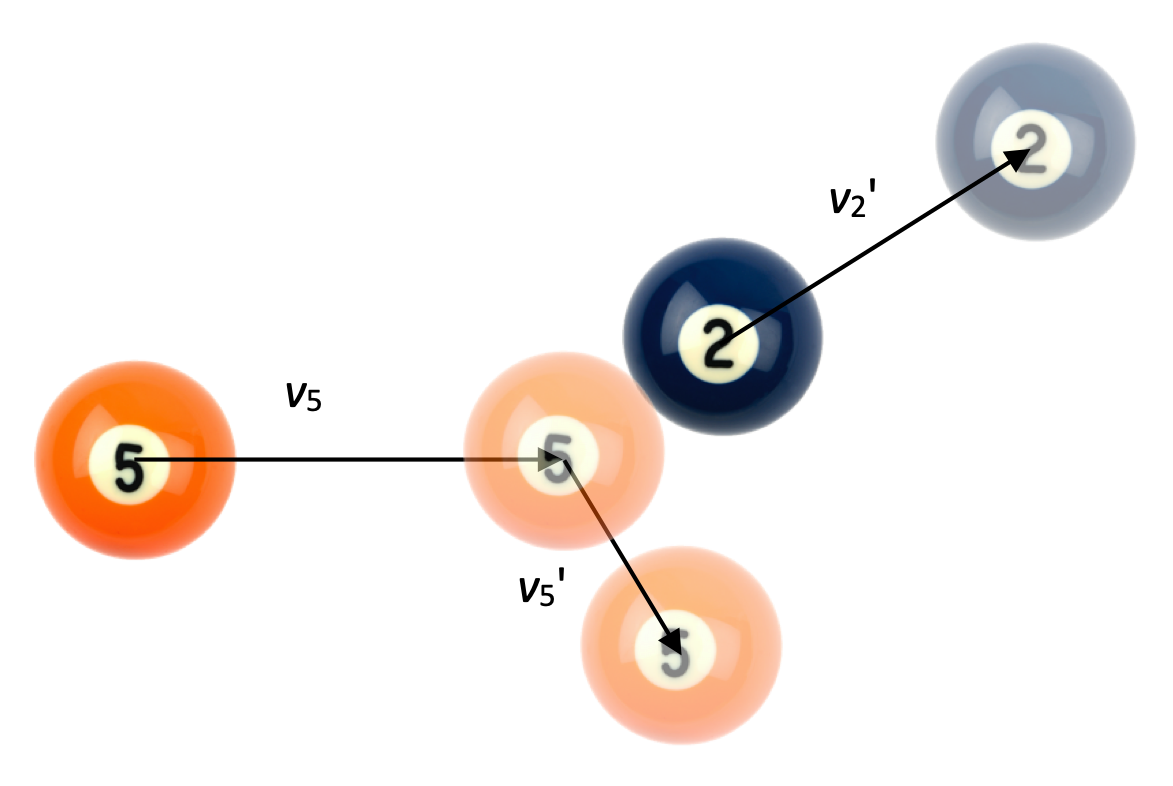 One subset of the 2-D elastic collision problem is that of a "glancing collision," when one mass comes along to strike another identical mass that is stationary. In those situations, it can be shown that the final velocities of the two masses are at a 90-degree angle to each other.
In the situation shown here, the 5-ball is traveling in the positive-x direction at some velocity when it collides with the stationary 2-ball. The 2-ball is knocked up and to the right, and the 5-ball continues down and to the left. The angle between those two paths after the collision is 90-degrees.
The proof that this happens is more extensive than we want to go into here, but the result can be summarized in the momentum analysis here:
If momentum is going to be conserved, the initial momentum vector p5 will need to maintained after the collision, and we can see that p5' and p2' do indeed graphically (tip-to-tail) sum to the original vector.
9.5. Center of Mass
Most people have something of an intuitive idea of where the center-of-mass of an object is. Maybe it's as simple as "the point where you'd put your finger if you wanted to balance a softball bat across it."

It's important to note right away that the center of mass is not a position at which there is equal mass on either side. In the example shown below, there are just two masses attached to a stick of negligible mass. There is much more mass on the left side, but its position is closer is closer to the center-of-mass as well. There is less mass on the right side, but it is located farther away. Both masses end up having the same "leverage" on the stick.
Let's try that with some numbers.
With masses distributed along a line, a one-dimensional arrangement, its easy to calculate the center-of-mass. It's almost as easy to calculate the center of mass for a two-dimensional arrangement of masses, or even a three-dimensional arrangement of masses. There are a few ways that you can express these two- and three-dimensional relationships.
9.5.1. Continuous distribution of Mass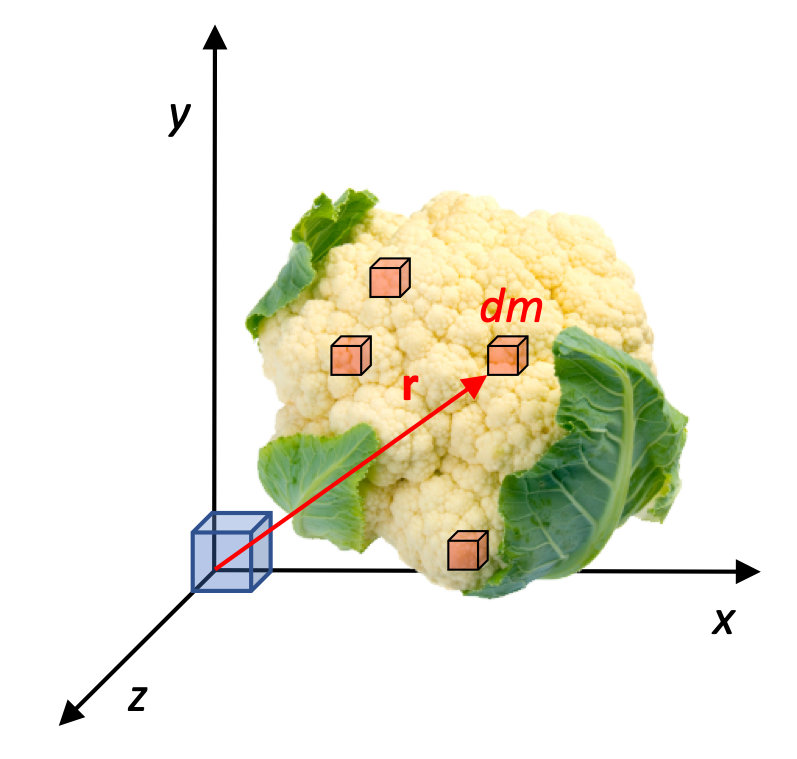 Locating the center of mass for a large, extended object can be a little trickier, but the same basic principles apply: large objects have lots of particles, all located various distances from the center-of-mass cm.
For these continuous distributions, we're going to need to use integrals to add up the effects of every little small mass dm. The position r of that mass is going to be a factor as well, of course.
For these larger distributions of mass, consider the total mass to consist of a series of discrete Δm chunks. We can figure out the x-component of the center-of-mass by summing the weighted-position of those masses. Better, we can let the size of those Δm chunks approach 0, at which point we can express this analysis in integral form:
In other dimensions:
Taking a look at these integrals, you can see that we have an issue. Consider the ycm integral, for example. We can't integrate a y-based function with respect to m. They're not directly related to each other.
We can, however, use density to create functions that we can analyze.
Let's see how to do that!
9.5.1.1. Density
For these analyses, we're going to need some way of relating dm to the location of that mass. We can do this by considering either:
the linear density λ ("lambda") for linear situations (like a long, thin, rod)
the surface area density σ ("sigma") for surface-based analyses, or
the volume density ρ ("rho") of the object for volume-based analyses.
You're almost certainly aware of "volume density," where Density = mass divided by volume:
This works for the overall density of a volume, but we can also consider the very small mass of a very small Volume of that larger mass:
We can also express this relationship in a slightly different way:
With this new relationship between dm and dV we can solve the integrals shown above. We'll see how to do that in just a moment.
Let's solve some problems.
For a mostly linear object like a baseball bat or a long, thin rod, we can think of the center-of-mass as being that location where, if we were to put our finger there, the object would balance, with gravity having an equal effect on either side of the object.
In a similar way, with a 2-dimensional object like the triangle in the next problem, we can imagine attaching a string to the 2-dimensional surface. If we attach that string at the center-of-mass in both the x and y directions, the triangle will maintain a horizontal position as we support it. If we attach the string at any other location, the forces acting on it will supply uneven torque effects, causing the triangle to hang to one side.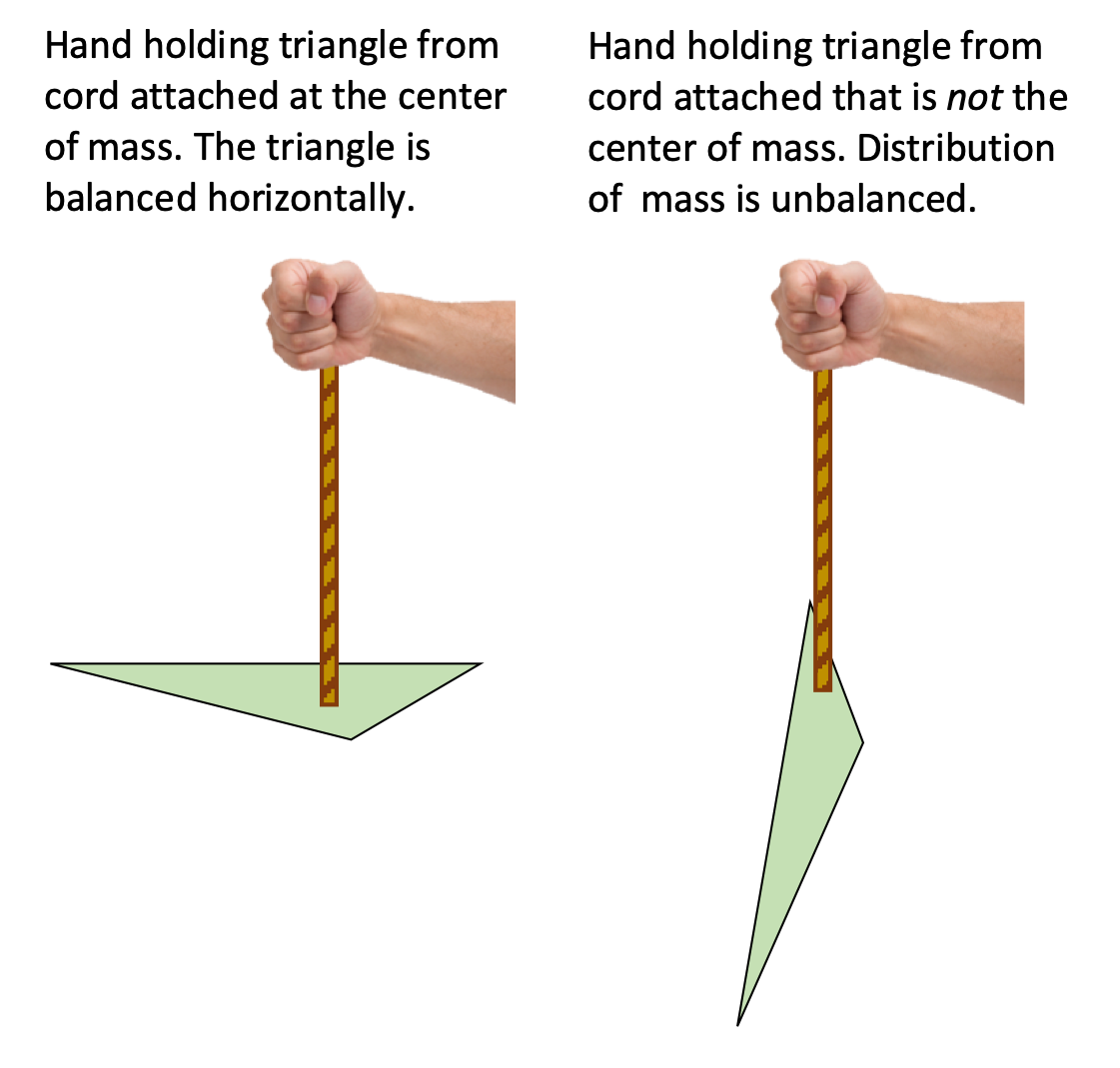 9.5.2. A System in Motion
Now that we know a little about center-of-mass for objects and systems, let's do a derivation in which we take time time-derivative of a center of mass.
The time-derivative of position is velocity, so
All of these mv values are the individual momentums of each component of the system. Let's rearrange the equation a little:
This is an interesting result because it reveals that the total momentum of a system of moving particles is the same as the momentum of the center-of-mass of that system. This remains true even if the velocities of the individual particles are moving in different directions (as long as their is no external Force providing an impulse to the system).
This animation from The Mechanical Universe demonstrates the effect nicely.
There is one more interesting derivation that we can perform here. We have determined that the total momentum of a system is equal to the momentum of its center of mass:
What happens if we take the time-derivative of that equation?
This is Newton's Second Law of Motion!
It's actually a slightly different form from the original. Our original Fnet = ma applied a particle of mass m. Here, we have arrived at an equation that justifies our application of the Second Law to a larger system of particles. Applying a net Force to the center-of-mass of that system will cause it to accelerate linearly, just as if it were a single particle.